REGIONAL NATIONAL CEMETERY IMPROVEMENT CORP.
P.O. BOX 4221
FAYETTEVILLE, ARKANSAS 72702
---
RNCIC ARCHIVES FOR 2011

---
COMBAT VETERANS MOTORCYCLE ASSOCIATION
DONATES $1,000 TO RNCIC
Steve "Top" Real, CVMA Commander, presented a check for $1,000 to Ron Butler, RNCIC President,
at a ceremony on Saturday, December 10, 2011 at the Fayetteville National Cemetery
before the Wreaths Across America event was held. We are grateful for the donation. Click on pix for larger photos.
L-R: Ron and Steve, Ron and other CMVA members with check, the big check and both RNCIC and CVMA crews.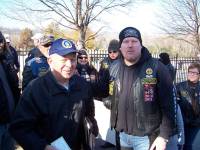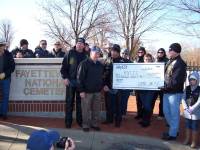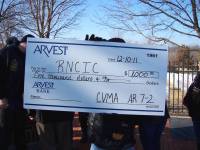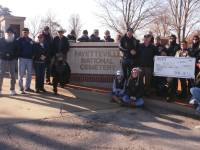 ---
SUSANNAH PORTER BEQUEATHS $20,000 TO RNCIC
Susannah Adair Handy Porter of Fayetteville died Saturday, August 20, 2011.
Her bequest of $20,000 to the RNCIC was received November 22, 2011.
Both Susannah and her husband, James Lee Porter, are buried in the Fayetteville National Cemetery.
Read Susannah's obituary to see what an extraordinary person she was.
We are very grateful to her for the bequest and it will be used in our next land purchase.

---

THE 3RD ANNUAL VETERAN'S MEMORIAL 5K RACE
WAS HELD ON SATURDAY, NOVEMBER 12, 2011 AT THE FAYETTEVILLE NATIONAL CEMETERY.
All proceeds went for the expansion of the cemetery.
Registration Fees: $25 early and $30 day of the race.
Send registration fees to Veteran's Memorial 5 K Race, C/O RNCIC, P.O. Box 4221, Fayetteville, Arkansas 72701.
Contact Roger McClain for info on being a sponsor, making a donation or to assist in anyway.
Click for more information: Race Brochure, Race Letter, and Race Sponsors.
You may sign up online HERE!
Take a look at our SPONSORS! who supported the race and give them your business.


Check the complete races results here: Overall Finish List and Age Group Results


Click on pix for larger photos.
L-R: RNCIC crew, Start of race, Kalani Holleman - female winner and Kyle Schmidt - male winner.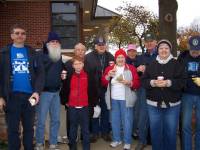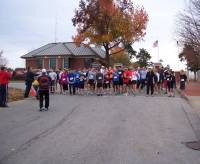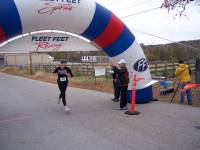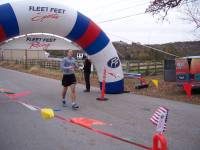 ---
FIRST TWO LIFE MEMBERSHIPS PRESENTED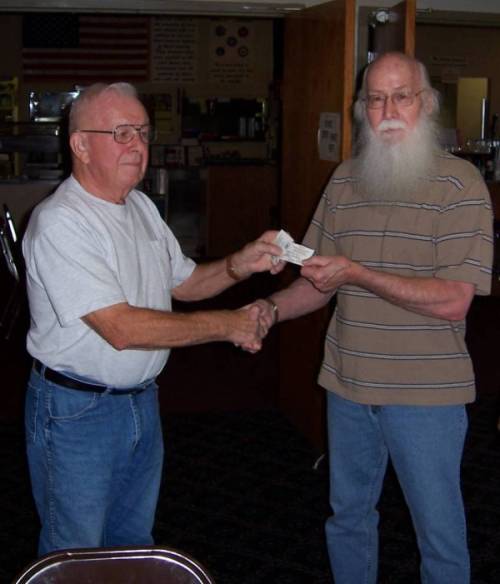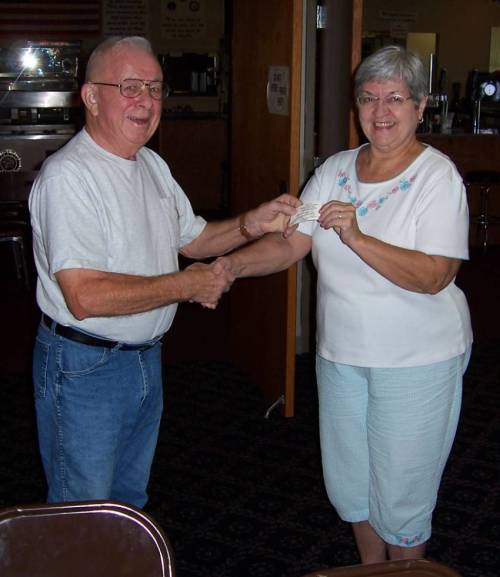 President Ron Butler presents life membership #1 to Jake Lamkins and #2 to Lorna Sterrett
at the RNCIC meeting on September 10, 2011.

---
MEMBERSHIP DRIVE
STARTING JULY 19, 2011
The following Membership dues have been approved by the RNCIC Board of Directors:


Lifetime $500
Sustaining $100 per year
Supporting $ 35 per year
Family $ 20 per year
Individual $ 10 per year


We invite you to express your interest in a membership.
This entitles you to attend our monthly meetings on the second Saturday
of every month (except December), 10:30 a.m.,
at the American Legion Post 27, 1195 So. Curtis Ave., Fayetteville, AR.
If that is not a consideration at this time,
perhaps you would like to make a donation to the RNCIC in memory of or in honor of an individual.


A membership form is shown for your consideration.
Right click, save to your computer and print out.
Membership dues are being accepted now.
We already have our first Lifetime Member,
and would like to add your name to the roll in any category that suits you.


We have recently purchased two properties on Hill Ave. which will give the RNCIC
a block of four properties to turn over to the VA for future burial sites at the Fayetteville National Cemetery.
However, we still have a lot of work ahead of us with fund raising to purchase additional properties.


WE NEED YOUR HELP AND PARTICIPATION!


Make your check payable to RNCIC and mail it to P.O. Box 4221, Fayetteville, AR 72702.
You will receive a membership card by return mail.


Thank you!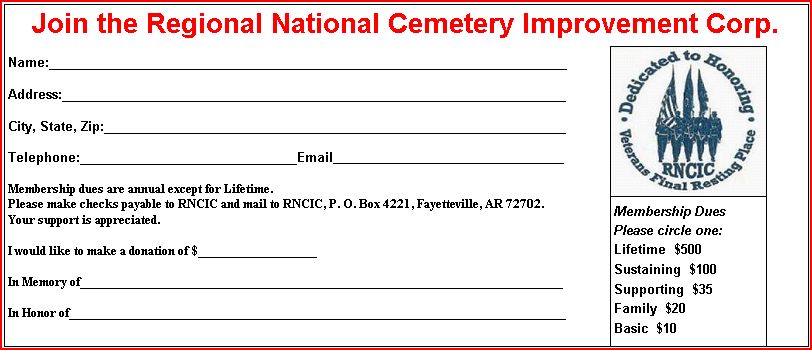 ---
CLOSING ON LOT 15
We closed on the Wilson Property (Lot #15) on Monday, 18 July at 0900
Bronson Abstract Company, 3810 Front Street, Suite 5, Fayetteville.
-Ron Butler, RNCIC President

---
AMENDED BYLAWS APPROVED JULY 9, 2011
TO BECOME EFFECTIVE JANUARY 1, 2012.
A twelve person Board of Directors with staggered three year terms will govern the RNCIC.
Elections to the Board will take place at the Annual Membership Meeting in January, 2012.
Officers from among the Board members will be elected at a Board of Directors meeting
immediately after the Membership Meeting. They will serve for the calendar year.

---
JULY 6, 2011 LETTER TO THE EDITOR
BY RNCIC MEMBER BUDD SAUNDERS.

---
RNCIC BUYS ANOTHER LOT
RNCIC SIGNED A SALE CONTRACT ON LOT 15 AT 976 S. HILL AVENUE ON JUNE 3, 2011.
Razing lot 17 is near completion and lot 15 clearance can only start after the renters have vacated the premises.
They will have 60 days to do so under the sale contract.
Lots 16 and 18 are cleared and ready for donation.
This will give us a block of FOUR lots to give the VA - Lots 15-16-17-18 all on the east side of Hill Avenue.

---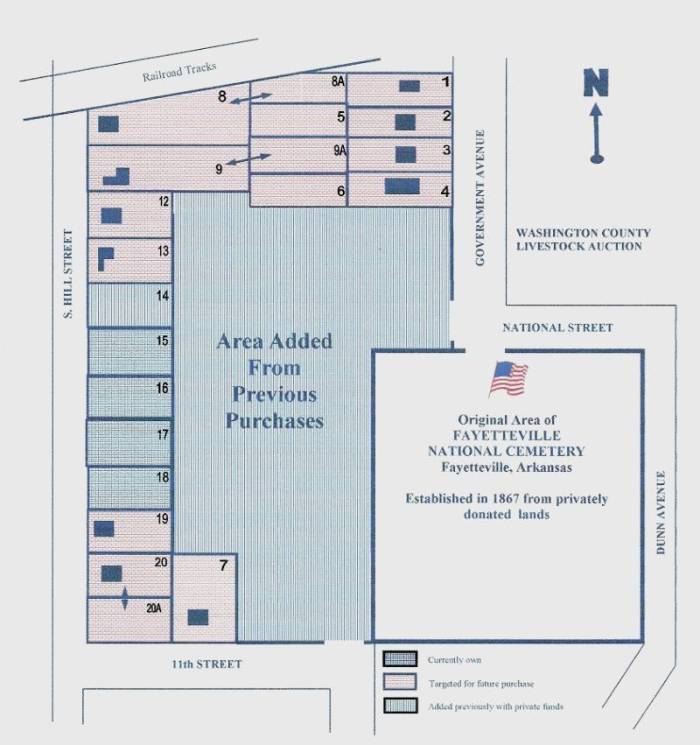 ---
MEMORIAL DAY CEREMONY
WILL BE ON MONDAY, MAY 30, 2011 AT THE FAYETTEVILLE NATIONAL CEMETERY.

---
RNCIC BUYING MORE LAND
CLOSING DATE FOR SALE OF LOT 17 AT 1048 S. HILL AVENUE (SEE CEMETERY MAP) IS APRIL 22, 2011.
This will give us a block of three lots to give the VA - Lots 16-17-18.
We are barely staying ahead of burials which have already started in the last lot we donated.


Effective this afternoon, April 25, 2011, Lot #17 on Hill Avenue belongs to the Regional National Cemetery Improvement Corporation!!!
I thank each & every person and donor that has made this possible.
Of course, our next objective has to be Lot #15.
As of this time, I have not received a response to our offer.
However, I expect to hear something in time for our next meeting.
Again, my thanks,
-Ron Butler, RNCIC President
---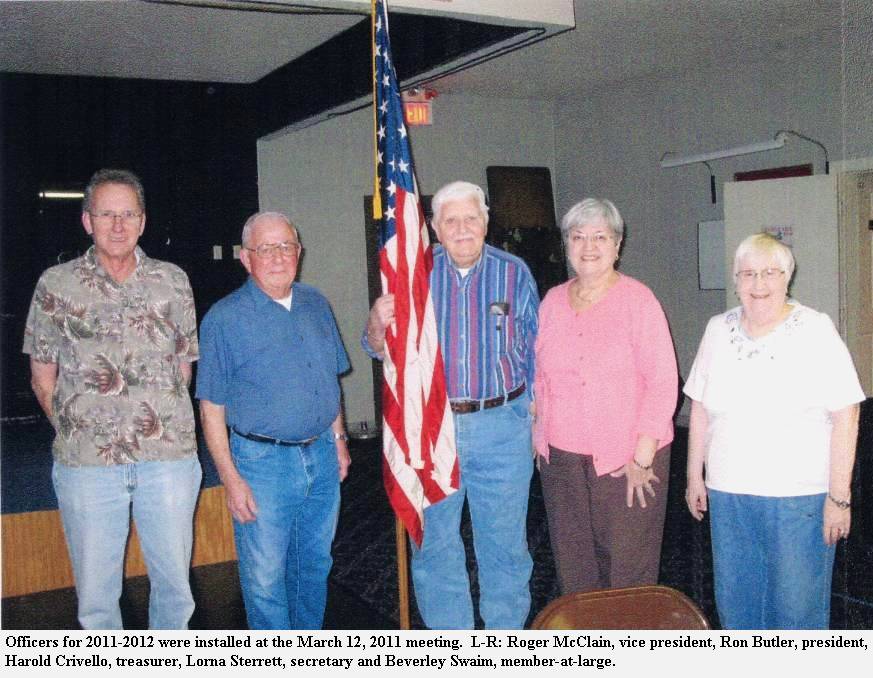 ---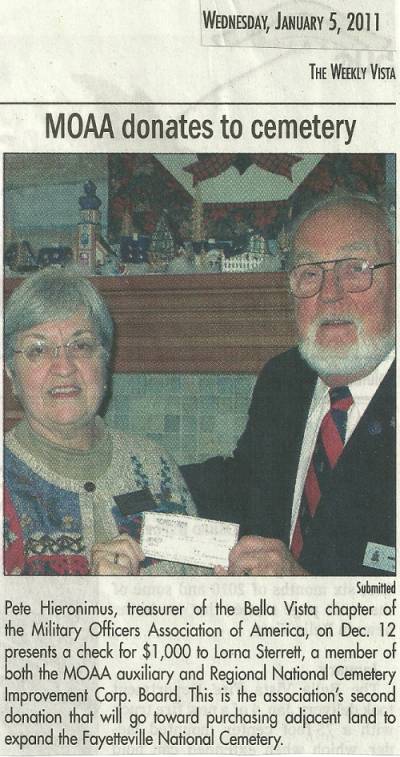 Article from January 5, 2011.
The MOAA's second $1000 donation plus they were a 2010 race sponsor.
---
---
---
The RNCIC.com website is possible due to a continuing donation from Jake Lamkins in memory of Bill Murphy,
Larry Browne, Ken Gibson, Elvie Heiney, Milo Cumpston, John Swaim, Bob Sterrett, Joe Hussey, Walker Collins, and veterans everywhere.
Many, many thanks to Bob and Lorna Sterrett for their $50,000 donation on March 8, 2008, Don Tyson for his donation of $75,000 on May 28, 2010
and Susannah Porter for her donation of $20,000 on November 22, 2011 - the largest gifts ever received by the RNCIC since it was founded in 1984.